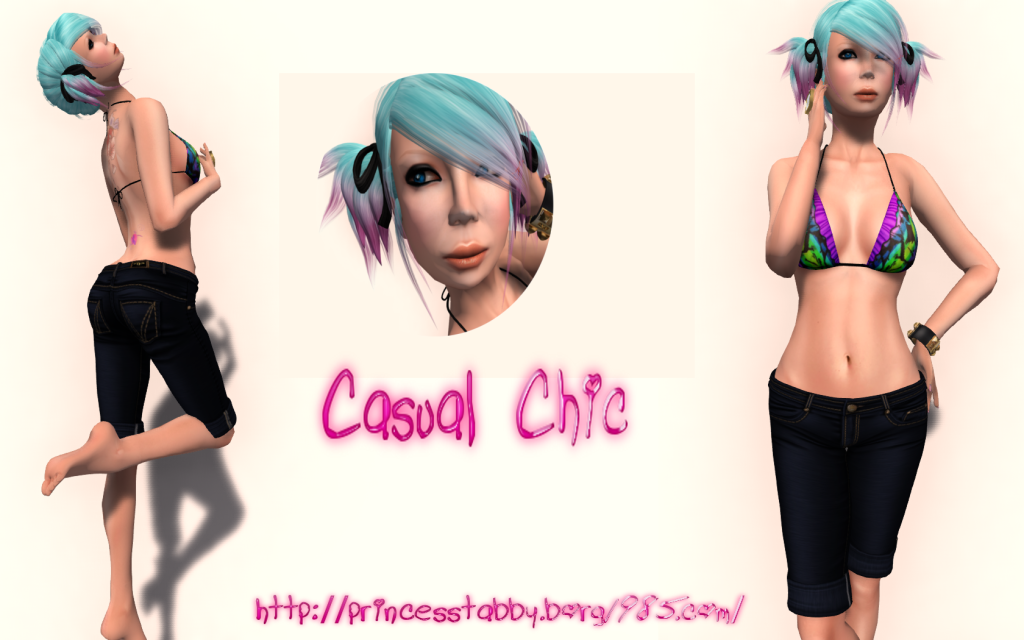 Pardon the different formatting, having to swap back to GIMP for a bit so relearning those tools and it's not exactly easy! Also starting up something a little bit new – one day a week, namely Friday, I'll be posting a look based around at least one totally free item. Awesome, no? But, on to the cute, shall we?
This outfit cost me a grand total of… 10L – which is all I paid for this super cute bikini from Sn@tch picked up at The Wash's semi-annual cart wash sale that I used the top of. The awesome shorts are only one color included in the pack by TuttiFrutti that you can pick up at FabFree headquarters for nothing but a click, not even a group join. My bracelet and ring, as well as Slink manicure are both free gifts for the (free to join) SL Free and Offers group!
Super cute, super chic, on the super cheap!
Credits
Worn:
Top – :::Sn@tch Mesh Pua String Bikini (5 Sizes)::: (From the Cart Wash Sale)
Shorts – *TuttiFrutti* FabFree Mesh Bermuda Shorts – Dark Blue (From FabFree HQ)
Bracelet & Ring – MoiMoi Selfie Chique Outfit
Cosmetics:
Lips – M.O.C.K Cosmetics Brazen Bronze Lip Stain (Wear and touch)
Nails – MaMoi Bella Slink Avatar Enhancement Nail HUD
Body:
Skin – –Glam Affair – Brandi – Asia 06
Eyes – IKON Lucid Eyes – Indigo
Hair – .ploom. Wurlie – Candy
Hands/Feet – Slink AvEnhance
Poses & Props:
Body – (marukin)[passion]loveless
Face – **Poseway** – Liquidation FIERA 5
Body 2 – *EverGlow* – Girls539