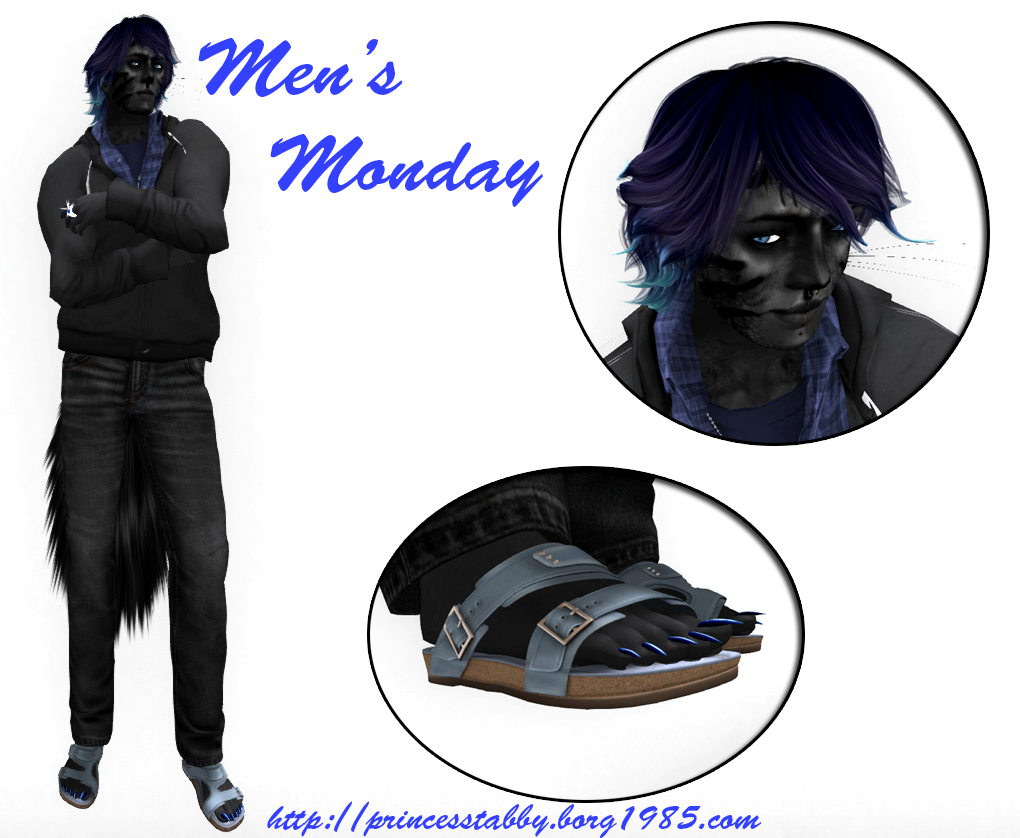 Welcome to the first of what I hope to be many Men's Monday posts here on my Tabby's blog. We are planning on putting up one of these every other Monday, so if these interest you make sure to check back then! As the title suggests these posts will be dedicated to men's clothing in Second Life that is of high quality as I know how difficult it sometimes can be to find really good looking men's clothing in a style you want, but rest assured it does exist even though the market is heavily female. What I will be blogging about will range in price from super high quality freebies to items you might have to pay a little bit for, but will be well worth the cost. Note: Some items I will be blogging about might be event exclusive items and if you missed the event you might not be able to get that item anymore.
As for me my name in Second Life anyway is Borg Capalini and as of a couple days ago I've been in SL for 7 years. I started off as most do as a human avatar, but after a couple years I got interested in the neko look and over a couple months slowly changed my look to being a neko. Starting the middle of last year I began updating my neko look as I was getting bored with the same look after about 4 years and I felt it was looking old too. So, after a lot of looking and some help from friends I had found new skin, stripes, hair, and some newer clothing. All in all a great update to my look. In particular the Fur skin from Fallen Gods Inc. is the most detailed fur skin I've ever found in Second Life, which is what I wanted as soo many other neko/fur skins look flat with stripes that look like they are poorly applied with a paint brush. This brings me up to April of this year where Tabby helped me update my look even more by helping me get new mesh eyes, slink hands and feet with the claw/pads add on, new mesh hair as well as more new clothing in the past couple months that I probably had bought in the year prior to that. This brings me to today where I have after a lot of time gotten the look that I feel really is *me*.  Why did I say all this?  In part to give you a bit of background on me and in part to say that being a man in Second Life does not mean you have to settle for crap and although it might take a while you can find that look that is *you* and no one else.
Now that we are past the introductions lets talk about what I am wearing in this picture.  The hoodie, which was a recent gift from a friend and is part of The Romano Collection, I loved the moment I put it on.  It has a lot of detail and just looks great on my avatar.  Yes, it is part of a complete outfit, but I just didn't think the jeans it came with worked with my avatar though they are also very well made.  I also decided to go with sandals instead of the boots it came with as I think they look better with the jeans I went with.  These jeans by Lapointe & Bastchild are awesome!  They look great and you have the ability to change the color of the belt and metal clasp via an included HUD.  I always like when designers include something like this as it makes you feel like you are getting way more for your money.  Finally, and perhaps my favorite part of the outfit are the sandals.  They not only look amazing with awesome texturing and detail, but they are also compatible with my slink feet!  Needless to say this is not easy to find as there really are not a lot of shoes designed for men's slink feet out there.  It is unfortunately an exclusive item to The Mens Department event, but we can hope that FLite will come out with more slink male shoes in the future that are just as awesome as these!
Worn:
Top – [TRC] Benji – Black(MC)v2 – Hoodie Only
Jeans – L&B S'wear "Classic" Jeans – Black
Shoes – FLite. -Bahama Blue Sandals – The Mens Department Exclusive Item
Necklace – [BedlaM] Fish charm necklace (chrome) – No Longer Available
Ring – P4Designs Capelo Men's Ring –  – Custom ring by P4Style Freenote
Facial Piercings – .:ellabella:. Homeostasis 5
Cosmetics:
Mani/Pedi – Orc Inc. : Slink Avatar Enhancement Nails – Rich Blue Dark
Body:
Skin – FUR xy +Fallen Gods Inc.+SKIN+ GREY natural
Stripes – WILD -Tiger stripes
Eyes – Ephemeral Neko – Shadow Cat Mesh Eyes (Deep Blue)
Hair – Exile::Take It Easy Wild Fusion 2 Ocean
Hands/Feet – Slink AvEnhance with Claw Nails Addon
Ears/Tail – !FB Ears & Tail – Black
Whiskers – ::::IrEn:::: whiskers
Poses & Props:
Body/Face – Exposeur – That Boy 1
Feet – D.Luxx – [M] Such a Poser 3a