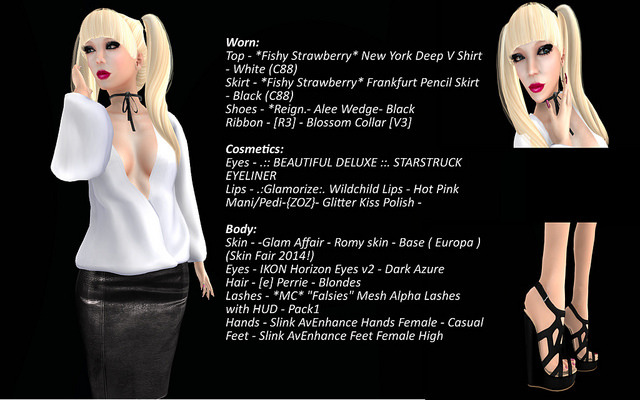 So today's look was all about NEW for me, to celebrate moving on in some of my business ventures. As always, this month's C88 has netted me some great deals that look absolutely fabulous – including these separates from Fishy Strawberry. I bought the blouse as a fatpack because a sexy low cut silk shirt with an alpha that doesn't clip when I dance in it is priceless. Also new, thanks to the sneaky peek Liv Glam group members were allowed the day before Skin Fair opens, is my skin.
I'd gotten quite attached to Izzie's Maci skin – and definitely expect it to show up still on my posts, but there's something really special about Romy. The face is a little softer, sweeter – and works very well with all my makeup layers despite my tendency to turn up the lip corners a bit on my shape for that slightly mischievous look. The breast and back shading in particular are very lovely… but I'll save that for a more adult rated post.
I'm very pleased with how this look turned out, and the texturing on the skirt and blouse are both fantastic – I normally don't wear white because it always looks *too* white in SL but I really love how this turned out. Also not to be missed are these fantastic nails by ZOZ! Excellent saturated color that really makes my nails show like they're supposed to!