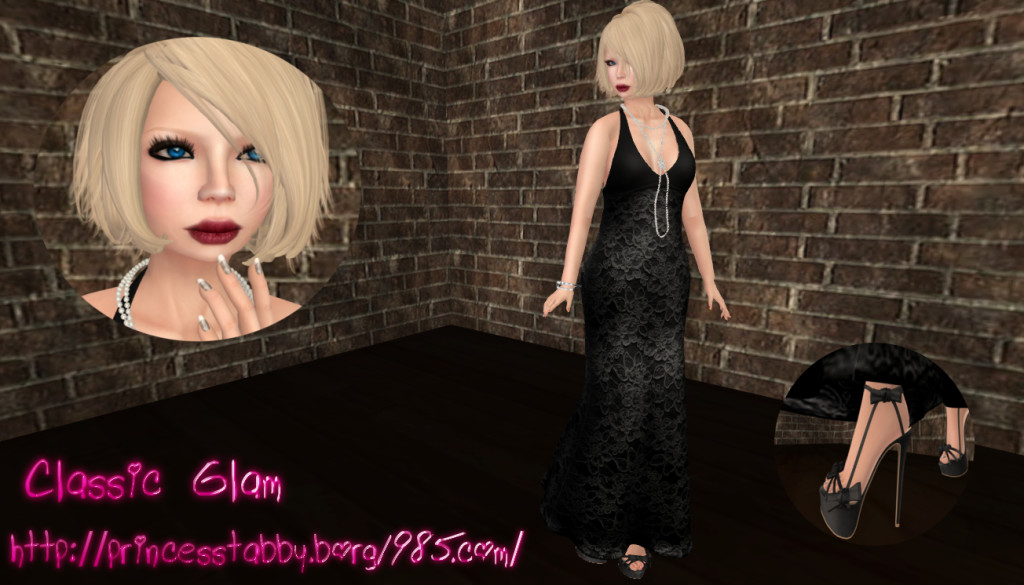 So, I finally made it through Hair Fair 2014 which is a semi-charity event where each vendor donates a minimum of 15% to the Wigs for Kids charity – most donated more than minimum. I bought hair. Not nearly as much hair as I had expected I might, but still a decent amount; and of course my cheap sense also drove me to grab all the free/1L goodies I could find too… which is where this particular post really starts.
This hair is actually a gift hair from Tameless that comes in a rather generous naturals pack and as soon as I put it on, I knew I had to do a post with it… and exactly what sort of look I wanted to make. Now, normally I'm not particularly fond of flexi/mesh blend hair – I understand that it's a way to add movement that gorgeous mesh hair is missing, but more often than not I find to me it just looks weird. That said, this particular style, it's actually working for me – there's a little bit of movement and sway to the cute bob that really impressed me. I'll be watching Tameless to see if they put out anything else I love.
From the hair, I knew I wanted to do a timeless look – elegant and the sort of thing that could step out of a movie and a quick dive into my inventory led to this look which happens to be one of my favorites to date.
Credits:
Worn:
Dress – Bens Boutique – Lace Hollywood Gown
Shoes – Essenz – Laguna (Black)
Necklace – MG – Necklace – Knotted Shimmer Pearls
Bracelets – Beloved Jewelry : Pearl and Ribbon Bracelets (Texture Change)
Cosmetics:
Lips – .:Glamorize:. Color Twist Lips – Red Wine
Mani/Pedi – Frogstar – Pearlescent Princess Nails 1
Body:
Skin – –Glam Affair – Brandi – Asia 06
Eyes – IKON Lucid Eyes – Indigo
Hair – Tameless Hair Beatrice – Naturals (Freebie)
Hands/Feet – Slink AvEnhance
Lashes – *MC* "Falsies" Mesh Alpha Lashes with HUD – Pack1
Poses & Props:
Body: nani – even if i wanted to
Feet: Model Pose 12 by ILAYA
Face: Izzie's – Head & Hands 2 (mirror)