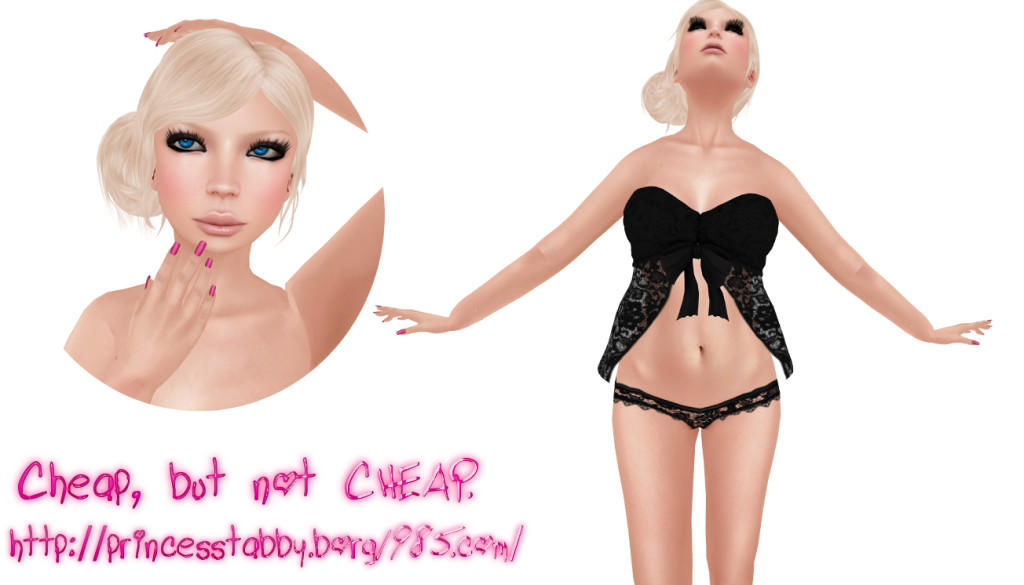 Sexy on a budget is always tough without crossing that line between sexy and classy and sexy and trashy. Sometimes I want to look trashy, I enjoy that certain sense of power that comes with looking "cheap" – but this look is all class.
Blacklace's newest group gift dropped today and I am, as usual, totally impressed. I'm not fond of the way system layers stretch on my av but some how their textures are just perfect almost every time and the panty section of this babydoll outfit is no exception. The babydoll itself is mesh and looking good. I continue to adore the high quality of their gifts – you really can't beat it!
Also of the free ilk in this simple look is the hair by Amacci courtesy of Hair Fair 2014 which is ending this weekend so get on it! And I really can't forget to mention that Hello Dave's new group gift also dropped today containing two full sets (fingers and toes) of their awesome nails – as soon as I saw pink on the palette I was there!
Credits
Worn:
Lingerie – ~Blacklace~ Bellini: Black Lace Set
Cosmetics:
Mani/Pedi – Hello Dave – Slink AvEnhance – VIPs – The Real Thing 3
Body:
Skin – –Glam Affair – Brandi – Asia 06
Eyes – IKON Lucid Eyes – Indigo
Hair – Amacci – Hair Fair 2014 Gift – Zoe (Variant pack)
Hands/Feet – Slink AvEnhance
Lashes – *MC* "Falsies" Mesh Alpha Lashes with HUD – Pack1
Poses & Props:
Body – Positure Poses – The Royal Brat3
Face – nani – bare 4