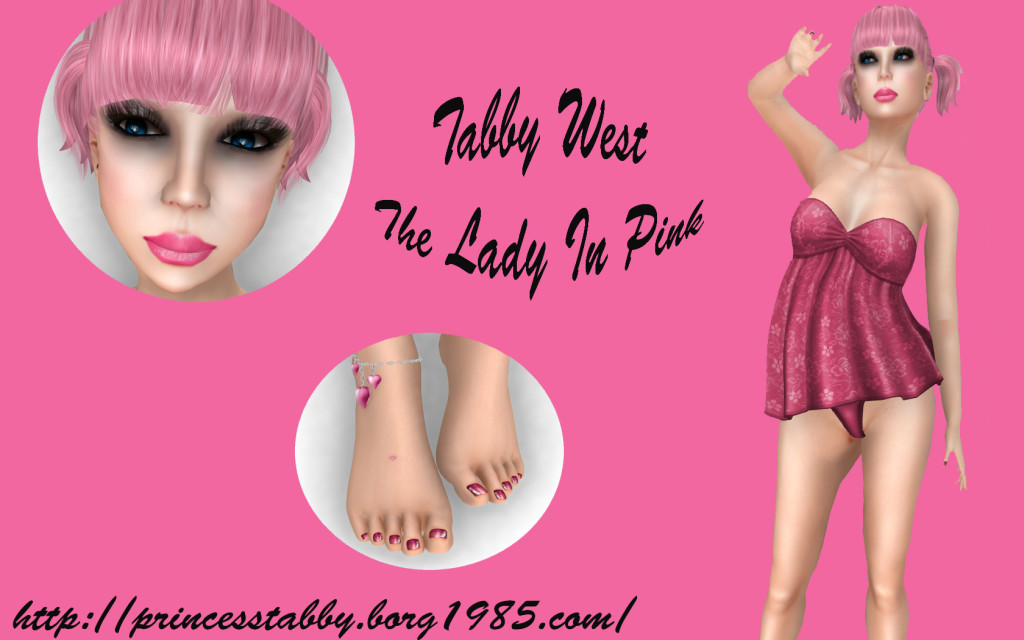 Okay, so "lady" is stretching it a bit… but "female" was just too clinical. Perhaps the Princess in Pink? Trying out a new photograph format – still no editing done to the actual pieces, only cropping and combining against a background and adding text. I think it looks pretty sharp… coming with that, I'm going to try linking to my sources as a way to help you lovely readers find the things I love to share.
So, I blame this entirely on Miss Berry's challenge this week…
Meme instructions: Blog a picture of your favorite color or a variety of colors that you like. Don't forget to leave a link to your post in the comments and share your picture in the Blog Memes Flickr Group.
Now, of course I am all about some pink! Give me your magenta, hot pink, baby pink, rose… I love them all! And what better way to show them off with some of my favorite lingerie by Blacklace? Also, not to be missed are these great nails by one of my favorite Slink manicurists at the moment, A:S:S. With a name like Pink Princess I'd be a fool not to own them!
Credits:
Worn:
Lingerie – ~Blacklace~ Dahlia: Pink Lace Baby Doll Set
Anklet – [sM] Tootsie Anklet – Heart – HIGH
Cosmetics:
Eyes – .:Glamorize:. Punch Eye Makeup – 2
Lips – .:Glamorize:.Plush Lips – Bubblegum
Mani/Pedi – A:S:S – Slink fingernails – Pink Princess
Body:
Skin – –Glam Affair – Romy skin – Base ( Europa )
Eyes – IKON Lucid Eyes – Indigo
Lashes – *MC* "Falsies" Mesh Alpha Lashes
Hair – .ploom. Alexis – Pinks & Purples
Hands & Feet – Slink AvEnhance
Pose Full Body: **Poseway** – Ylenia_4b
Pose Face: *EverGlow* – Girls532
Pose Feet: (marukin) [passion] seasons of the roses