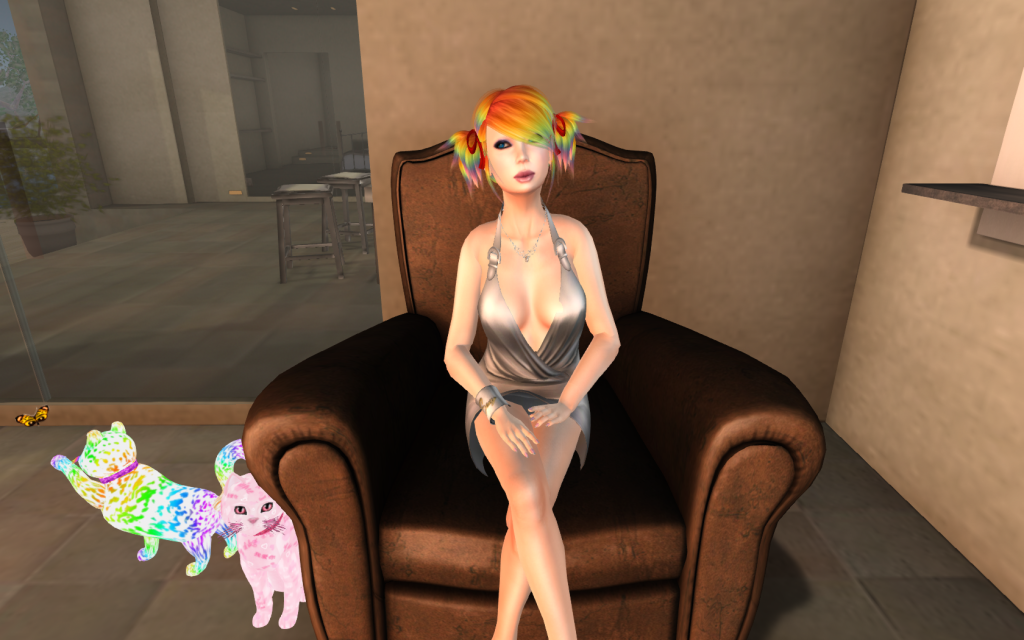 See also: Not Just For Humans!
See also: KittyCatS are jerks too!
Meme Instructions: Go out exploring the grid and find someone to photobomb, or share a picture or anecdote of a time that you were photobombed in Second Life. Don't forget to leave a link to your post in the comments and share your picture in the Blog Memes flickr group.
I adore Miss Strawberry's memes/challenges, they can be difficult and sometimes impossible for me to pull together – but this one was easy despite the fact that I was unable to teleport without crashing! Here I was taking a nice, admittedly posed shot with my photobombing kittycat, Mister Pink… when who should wander over swatting at particle butterflies than his partner Rainbows! So, my perfectly staged bombing was actually photobombed by my delightful kitty friend.
Worn:
Dress – !Rebel Hope – Layla Mesh Dress Satin Silver
Necklace – ::: Krystal ::: Crystal – Necklace – Platinum
Bracelet – ..::Energie::.. Wirst Cuff Sexy Bag
Shoes – Essenz – Athens (Black)
Cosmetics:
Eyes/Lips – .:Glamorize:. Inspiration Makeup – Combo 1
Mani/Pedi – [Kokolores]Nails, Nails, Nails! Set 09 – 01
Body:
Skin – -Glam Affair – Romy skin – Base ( Europa )
Eyes – IKON Lucid Eyes – Indigo
Hair – .ploom. Wurlie – Candy
Hands/Feet – Slink AvEnhance
Poses and Props:
Chair: Dutchie Mistress Chair – Sit
Fine Felines: KittyCatS!